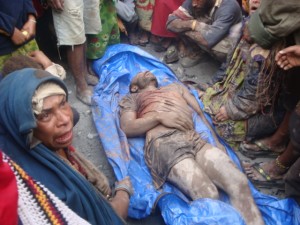 We at Porgera Alliance are pleased to Claim Victory on out of court settlement  entered by our lawyers from Earth Rights International in the USA and Barrick Gold of Canada on agreement to pay compensation to issues connected with human rights abuses at the Porgera mine site, (Rapes and Killing) after many many tears of struggle to seek justice and relief.
The victory comes about after many years struggle to seek justice with limited or no resources in the absences of the Papua New Guinea Governments support. Human Rights abuse crimes occurred at thePorgera mine site and we plead to the PNG many times but felt on deaf ears in Waigani. Despite many obstacles, we brought the issues to door step of Barrick Gold in Canada and USA. It took us many years but at least, but not the last, we at Porgera Alliance where able to pin down Barrick and that eventually lead to the out off court settlement, compensation in a small way to rape and killing victims. The victory demonstrates, Porgera Alliance Yes We can on a grassroot note and a shame to the PNG government failing to protects its citizens in the pre text of foreign investment and development.
Jethro Tulin
Executive Officer
Porgera Alliance & ATA
READ statement by EarthRights International.