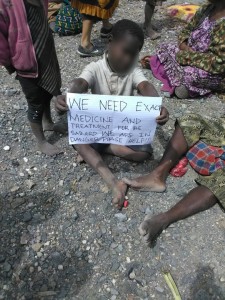 On July 12, several reports from Porgera indicate that there was a chemical release by Barrick into the Red Wara River.
UPDATE from Mark Ekepa:
"In my village last week 12th July there was a shut down of mill and took 4 day to refurbished and service it while doing that the rubbish from the auto clave and unneutralized of chemicals were discharged direct into the red wara.
When the villagers saw that they went down panning for waste gold as usual on their daily life and started packing them in their bags and trying to clean them with fresh water but they started feeling in their all body started heated up and itching on their skins.
After an hours time the news spread around the village and Barrick PJV stepped in with their CRA officers and found out and confirmed it and took 8 victims the worse one to their medical center and treat them and took their blood samples to be tested and advices the victims to wait for two weeks to get their results.
There are more victims there were burned by the chemical disposal and yet collecting their details will update you."
According to Everlyn Gaupe, over 100 victims under close attention of the medical care as a result of the release, but need proper care and resources.