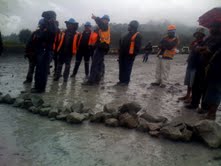 Dear Editor,
This morning, the Porgera Mine Police arrested 45 local Porgerans
along the riverine tailings while they were panning gold. This local
landowners live in the Special mining Leased area (SML). Their homes
have not been relocated since the mine granting the Special Mining
Lease and the licence to mine. This people's land ones used for food
gardening was taken by the mine, their traditional gold panning sites
were covered by the waste debris and sentiments from the mine, The
mine royalty obtained quarterly is insufficient amongst the growing
population. This people have no ways to cater wants and needs
especially food and drinking water. Thus this entire community is
obliged to go into the nearby mine waste tailing sites to obtain golds
to be redeemed for cash.
This morning as usual the entire villagers set to the tailing mouth to
find gold and suddenly group of mine machinery police fully harmed
arrested man women kids including school students along the waste
tailing river and are locked up in cell. The remaining tribesman are
demanding the mine management to release the 45 arrested. The
villagers are blaming the mine for creating an artificial environment
which is conditioning the people go panning gold in the mine and be
arrested, raped, tortured and even get killed by the mine security
force.
The situation is at tense and more shall be reported tomorrow.
Regards

Koyapal Napapen